terça-feira, julho 19, 2005
Iris Garrelfs "Specified Encouters" (Bip_Hop, 2005)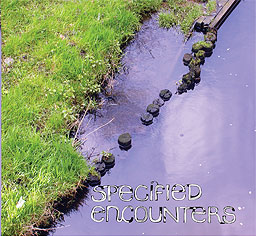 Iris Garrelfs é uma produtora inglesa que colaborou com pessoas como Scanner e que edita agora o primeiro álbum na francesa Bip_Hop. "Specified Encounters" é um disco de electrónica abstracta, trabalhando com vozes de uma forma que o faz primo dos álbuns a solo da AGF, da Björk, da Mira Calix ou da Maja Ratkje. E se o método tem semelhanças, a expressão dele acaba por ser muito diferente. Iris Garrelfs é simultaneamente descendente do chill out do tecno (tal como Biosphere ou Boards of Canada eram) e do ambientalismo repetitivo (e bastante negro) de Nurse With Wound ou do William Basinski. Marcadamente experimental, os encontros aqui mostrados partem muitas vezes da própria voz da Garrelfs, que camada por camada produzem ambientes etéreos e inquietantes, como a voz que vem de dentro ou de parte incerta. Há algo aqui de primordial ou primitivo, pois Iris Garrelfs encarna na voz o grito aparentemente selvagem, quase a lembrar a Meredith Monk. Nos partes exclusivamente instrumentais há ruídos industriais no subsolo que, contudo, poluem essa atmosfera natural e aparentemente pura. O climax é atingido no "Encounter 6", uma longa faixa de quase 18 minutos, artificial e primitiva, inspirada na natureza e contudo com sons sistematicamente cortados de forma abrupta pelos efeitos do software do computador.
"Specified Encounters" é uma estreia auspiciosa, um belo regresso da editora Bip_Hop.
(0) comments
quinta-feira, julho 14, 2005
Alguns discos:
Clickits "Express Gifts", Mountains "Mountains"
- álbuns feitos de faixas simples, com elementos acústicos e electrónicos a trabalhar numa simbiose quase perfeita. Música instrumental levemente melancólica, que a espaços pode lembrar projectos como Labradford ou Pan American. Destaque para a última faixa de "Mountains", um longo tema de mais de 20 minutos, onde o algum noise se intromete de uma forma que lembra francamente Fennesz.
Fennesz/Sakamoto "Sala Santa Sicilia"
- excerto dos primeiros 20 minutos de um concerto da dupla Fennesz e Sakamoto. Surpreendentemente, é um álbum que não é tão melódico quanto o "Endless Summer" ou alguns trabalhos do Sakamoto. Vive muito de camadas de sons a atirar justamente para o noise, e é para se ouvir com o volume de som muito alto. Um belo disco.
Jane "Berserker"
- surpreendente lançamento da editora dos Animal Collective. Este disco entra francamente dentro da área da música de dança, mas com uma perspectiva muito
lo-fi
e algo melancólica. É um trabalho hibrido e algo estranho que poderá crescer com o número de audições.
(0) comments
sexta-feira, julho 08, 2005
Mais um ataque cobarde à nossa civilização.
Aqui fica o nosso pesar pelas vítimas, e o desejo que este momento difícil seja ultrapassado pelos Londrinos.
Para os homenagear, aqui fica uma curiosa carta de um deles (via
O Insurgente
, publicada no
London News Review
):
What the fuck do you think you're doing? This is London. We've dealt with your sort before. You don't try and pull this on us.
Do you have any idea how many times our city has been attacked? Whatever you're trying to do, it's not going to work.

All you've done is end some of our lives, and ruin some more. How is that going to help you? You don't get rewarded for this kind of crap.

And if, as your MO indicates, you're an al-Qaeda group, then you're out of your tiny minds.

Because if this is a message to Tony Blair, we've got news for you. We don't much like our government ourselves, or what they do in our name. But, listen very clearly. We'll deal with that ourselves. We're London, and we've got our own way of doing things, and it doesn't involve tossing bombs around where innocent people are going about their lives.

And that's because we're better than you. Everyone is better than you. Our city works. We rather like it. And we're going to go about our lives. We're going to take care of the lives you ruined. And then we're going to work. And we're going down the pub.

So you can pack up your bombs, put them in your arseholes, and get the fuck out of our city.
(0) comments
terça-feira, julho 05, 2005
1º Semestre de 2005 - balanço anual a meio da corrida
Por razões pessoais não tem sido possível actualizar o Blog com a frequência que desejava. Ainda não é desta que o farei, mas pelo menos (e assinalando a passagem do mês de Junho para o mês de Julho) deixo agora um pequeno balanço dos discos que mais gostei neste primeiro semestre de 2005. Sem nenhuma ordem especial.
AGF/Delay - Explode
Alva Noto - Transhall Cycle
Animal Collective - Prospect Hummer
Autechre - Untilted
Burnt Friedman & Jaki Liebezeit & David Sylvian - Out In The Sticks
Colleen - The Golden Morning Breaks
Fennesz / Sakamoto - Sala Santa Cecilia
Gang Gang Dance - God's Money
Konono nº1 - Congotronics
Low - The Great Destroyer
Monolake - Invisible Force, Axis Carbon, Polygon_Cities
Six Organs of Admittance - School of the Flower
Para além destes, destaques para Electrelane, F.S. Blumm, Boris, e para VVV (Pan Sonic & Alan Vega), Tom Zé, Savina Yannatou, estes ainda com poucas audições.
(3) comments